Merle Bennett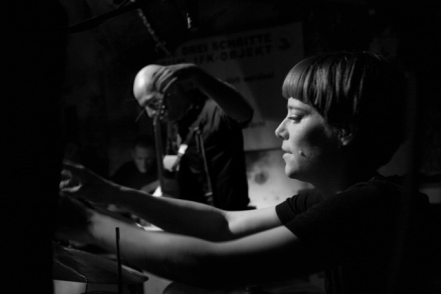 Merle Bennett, born in 1974, gathered a variety of musical experiences in her home town of Hamburg by playing with many different musicians in as many different genres as possible. She then decided to concentrate in the fields of experimental/improvisation and worked during the nineties with the touring contemporary dance ensemble contact 17.
She studied Jazz and popular music through the "Kontaktstudiengang" at the Hamburg conservatory of music. Moving to Berlin, she decided to study Jazz and Popular music at the Hans Eisler Hochschule für Musik which she then supplemented in 2008 with elementary musicpedagogy.
Merle Bennett has worked as a holistic bodybased therapist (Panterei) since 2014. In 2020 she received the official healers permission for alternative medicine and carries the titel "Heilpraktiker".
From 2004 to 2016 she lead the record label schraum in cooperation with Axel Haller and Torsten Papenheim.
Releases:
rant "to raise hell as we go along" (2019 Unit)
Rico Lee &The Black Pumas (2018 Mamasweed Records)
rant "margo flux" (2015 schraum)
rant "land" (2011 schraum)
Erik&Me "Versteck" (2011 Revolver)
Orchester der Schatten "SKI – Serie Krimi International" (2010, Eichborn/Funkhaus Europa)
Erik&Me "Hundertsechzig Zeichen" (2008 Madunsky Records)
"Berlin Improv Sampler" (2007 Japan Improv)
rant "a direct sensuous pleasure" (2006 schraum)
Orchester der Schatten "Der Ruf des Dämon" (2004 Eichborn/Lido)
"Labor-CD" [Sampler] (2004 Charhizma)
rant "seumsund/sundseum" (2004 schraum)