Merle Bennett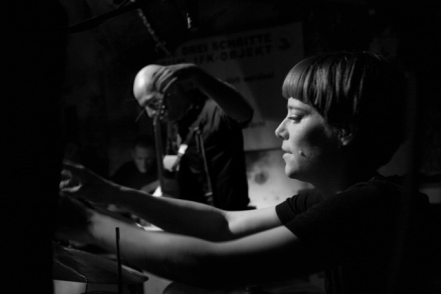 Merle Bennett was born in 1974 in Hamburg, Germany. She started her professional career at 20  playing with many different musicians in the fields of improv, jazz, modern dance and art. For five years she was a member of the dance company Contact 17 lead by dancer Stina K. Bollmann. They toured Germany and neighbouring countries, playing many dance and theatre festivals.
In 1998 Merle Bennett moved to Berlin and studied jazz drums and elementary music pedagogy at the Hanns Eisler Conservatory.
In 2002 she was laureate of the competition for improvised music for young musicians at the Altstadtherbst Festival in Düsseldorf with her ensemble Cliquetis Creux. For many years Merle Bennett played in the indie pop band Erik&Me, one of the first German bands that took part in the so called PopCamp, founded by Deutscher Musikrat. The third album of Erik&Me became album of the week at Berlins big radio station Radio eins. She ran a music label with Torsten Papenheim and Axel Haller from 2004 to 2016 called schraum.
Merle Bennett works and performs with different Bands: rant, Rico Lee and the Black Pumas, and The Pankow Dance Society.
From 2014 to 2021 she learned and worked as a body therapist using the method of Pantarei Approach. In 2020 she graduated as a Heilpraktikerin. In february 2021 Merle Bennett startet to work as a music teacher in an elementary school in Berlin. She lives together with her husband and their two kids in the north of Berlin.
Releases:
rant "to raise hell as we go along" (2019 Unit)
Rico Lee & The Black Pumas (2018 Mamasweed Records)
rant "margo flux" (2015 schraum)
rant "land" (2011 schraum)
Erik&Me "Versteck" (2011 Revolver)
Orchester der Schatten "SKI – Serie Krimi International" (2010, Eichborn/Funkhaus Europa)
Erik&Me "Hundertsechzig Zeichen" (2008 Madunsky Records)
"Berlin Improv Sampler" (2007 Japan Improv)
rant "a direct sensuous pleasure" (2006 schraum)
Orchester der Schatten "Der Ruf des Dämon" (2004 Eichborn/Lido)
"Labor-CD" [Sampler] (2004 Charhizma)
rant "seumsund/sundseum" (2004 schraum)